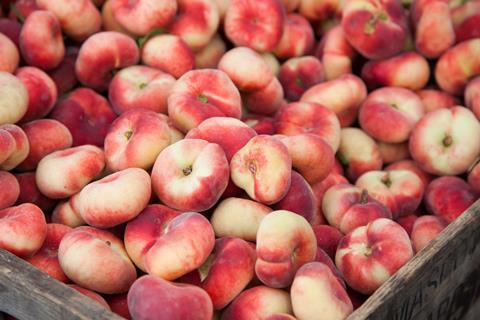 After two small harvests in southern Europe, peaches and nectarines have disappeared from the top ten most commonly purchased fruits in a number of central and northern European countries.
That's according to new research published by industry analyst AMI, which also found that growth in sales of so-called flat peaches appears to have slowed down.
Among those European countries without significant domestic production, Germany currently buys the largest volume of peaches and nectarines each year.
Data from GfK's household panel showed that the country's retail sales of those two products were worth just under €350m in 2020 – still significantly higher than sales of lemons, pears, kiwifruit or avocados.
But there has also been a marked difference in the way demand has evolved for each product over the past ten years, AMI reported.
"While the purchase volume of nectarines has been slowly declining for a long time, the purchase volume of peaches remained constant despite the two small harvests in southern Europe at the end of the observation period – that is by 2018 it had increased significantly," it commented.
"This is because the increase in flat peaches (known as paraguayos) more than compensated for the decrease in round varieties. In 2020, almost as many flat varieties were bought as round varieties, and in 2021 the flat peaches could even overtake the round varieties."
However, the flat peach boom seems to have passed its peak. "There is already a lot of grubbing up going on in Spain," the analyst continued. "For nectarines, on the other hand, the flat varieties are stuck at below 5 per cent of the purchase volume and do not seem to be increasing any further."
There has also apparently been an important shift in the supply base, with new countries capturing a bigger share of the market.
For more information (in English) and more than 100 charts illustrating developments in the production, trade and consumption of peaches, nectarines and apricots, please contact info@ami-informiert.de.