Nielsen data shows that the variety commands one of the highest retail of all branded apples in the US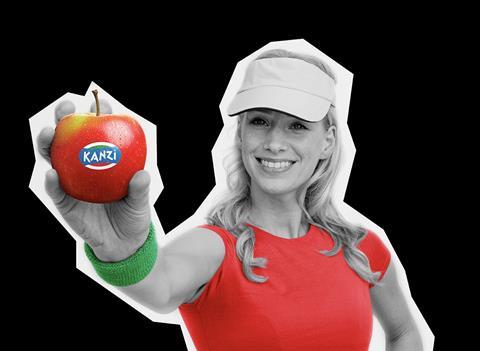 Kanzi has maintained its position as Europe's second best-selling apple variety and continues to win over consumers in the US, new market research data shows.
Danelle Huber, senior marketing manager at CMI Orchards –one of only two US growers licensed to grow Kanzi – said the apple received consistently high ratings and positive feedback in the company's new CatStats report, which gathers data from 500 people through an influencer mailout programme.
"On a scale from one to five, with five being the highest possible rating, Kanzi holds strong at a solid 4.6 rating with no negative ratings," she said.
"This lines up exactly with what we're seeing in the sales data for this apple. While pounds are falling for most varieties, a major country-wide retailer saw a 6 per cent volume growth in Kanzi over the last 52 weeks."
Rochelle Bohm, vice president of marketing, said that the 52-week Nielsen scan data shows that Kanzi commands one of the highest retail prices of all branded apples, and outpaces inflation with a 10.2 per cent gain over last year.
"It's one of only five branded apples with retails over US$2.50. This is an obvious indicator of its mounting popularity: shoppers are willing to pay more for Kanzi," she said.
Bohm added that Kanzi consistently ranks as the #1 foodie's choice in blind taste tests and as the best-tasting apple pie apple. It also ranked #1 in the Barstool Sports taste test, beating 15 other apples in a blind line-up to uncover the best apple on earth.
"Kanzi's texture means that it holds up when baked and doesn't turn mushy like other apples. This really gives customers an elevated eating experience whether they're snacking or using Kanzi as their new baking staple," she said.
Worldwide, Kanzi ranks #2 behind Pink Lady. "Retailers need to capitalise on this premium apple to take their sales to the next level," Bohm continued. "Kanzi's proven performance in markets is a testament to its growing popularity and remarkable sales success."