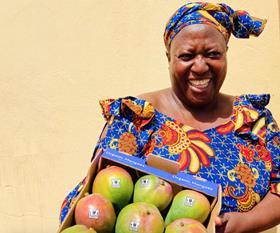 Dutch organics supplier Eosta's first Living Wage mangoes have proved such a success for growers in Burkina Faso that Living Wage avocados are now set to follow.
Last season, according to the company, while most retailers in Europe declined to sell Living Wage mangoes, "German and Austrian shopkeepers were braver".
"Luckily, consumers turned out to be enthusiastic," Eosta revealed. "More than 100 tonnes of organic Living Wage mangoes were sold through only a few points of sale. And the result: the amount raised now closes 40 per cent of the wage gap of Zongo Adama's warehouse workers in Burkina Faso. Eosta now has new plans for Living Wage avocados."
According to Gert-Jan Lieffering, quality manager at Eosta, a Living Wage means an income that allows a family not only to survive, but also to build a life.
"Social labels guarantee a minimum wage, but in poor countries the minimum wage is much lower than an actual Living Wage," he said. "For fruit without a social label, even the minimum wage is questionable. In fact, we are the first supplier in Europe to bring a product to the market that makes Living Wages possible.'
Eosta's research at its mango supplier Fruiteq in Burkina Faso found that in order to close the gap for a Living Wage for all 100 warehouse workers and variable numbers of harvesters, an additional charge of approximately €0.10 per kilo of mangoes was needed, if this applied to all exports to Europe.
Over the summer, Eosta account manager Leonard de Hoog reportedly sold over 100 tonnes of organic Living Wage mangoes through retailers in Germany and Austria, equivalent to five full containers.
'Fruiteq is happy with the result,' he said. 'We're really setting a new standard in fairly supplied food. Burkina Faso has been hit hard economically by the pandemic, so this is a nice boost.'
Following consultations with Fruiteq employees, it was decided that the initial amount collected would be used to improve grower incomes throughout the year.
'The warehouse workers only work for Fruiteq for 12 weeks a year," Lieffering explained. "They need other income for the rest of the year, preferably in the form of a small business of their own. In Burkina Faso, borrowing money for a start-up is difficult and expensive. This is why, at their request, we are using the money as a fund for interest-free microcredit. The money is therefore rotating, creating a sustainable catalyst that can help more people.'
According to Lieffering, the company is on course to meet its goal of closing the Living Wage gap. 'Next season we hope to sell even more mangoes and we're going to take some new steps," he said. "In the longer term, the market must develop the confidence to commit itself to Living Wage-inclusive pricing. In spring we will continue with mangoes and Living Wage avocados from Kenya. We are currently discussing this with German retailers.'