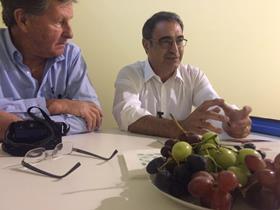 Leading fruit breeder Sun World is expanding production of its trademark Black Diamond plum series worldwide with the introduction of a new variety, Suplum 43, currently being tested in Spain.
Maurizio Ventura, the US-based company's regional licensing manager for Europe, told Eurofruit that Suplum 43 could be harvested in August and as late as early September – three weeks later than normal – and, as such, would eventually enable the marketer's member producers and licence-holders collectively to achieve a three-month supply window for the black-skinned, red-fleshed series in Europe.
The Black Diamond plum season currently consists of Suplum 41 and Suplum 28 in Spain, starting in late May, followed by Suplum 28 and Suplum 11 in Italy.
"Very likely this will be the variety of August and maybe the beginning of September," Ventura commented.
Speaking during this week's Macfrut trade show in Rimini, Italy, Ventura also hinted at new developments in the market for yellow plums.
Sun World continues to trial one particular yellow variety, codenamed Suplum 31, which reportedly offers 45 days of storage.
"Nobody [wants to] know about yellow plums now. But in five years, ten years, this variety will be a revolution, because it doesn't mark," he said.