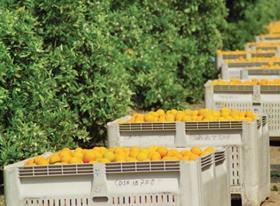 Sunkist Growers has announced the hiring of citrus-industry veteran Matt Shekoyan, who will serve as vice president of strategy for the cooperative and its sister co-op, Fruit Growers Supply (FGS).
In his new role, Shekoyan will work closely with both Sunkist and FGS to optimise and bring to life the companies' strategic direction.
"We're excited to welcome Matt to the team," said Jim Phillips, president and CEO at Sunkist Growers and FGS. "This is a new position within our two cooperatives, and it was created to help us deliver on our commitment to our growers, employees, customers, and consumers. I am looking forward to his contributions in keeping Sunkist the citrus leader and industry innovator for many more generations to come.
"Matt has seen the citrus industry grow, evolve, and redefine itself,' Phillips added. 'He has a deep understanding of this sector of agriculture, and his knowledge paired with his long history and passion for all things citrus is what we call a triple threat."
Shekoyan brings more than 20 years of diverse leadership experience in the agriculture industry to Sunkist and FGS, having spent much of his career at The Wonderful Company, serving in various operational and executive capacities in the US and abroad, including CFO of Wonderful Citrus.
"I'm thrilled to join the Sunkist/FGS team," added Shekoyan. "We have a strong global brand, a talented team, and some of the best assets within the ag space. I'm looking forward to building upon our proud legacy and achieve even greater success for our stakeholders."