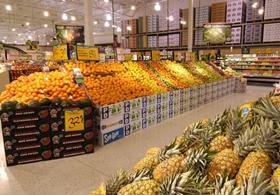 US supermarket group Supervalu has seen year-on-year net income drop US$20m in the second quarter ended 6 September, from US$148m in 2007 to US$128m, attributed to slower consumer spending amid a weak US economy.
The retailer's net sales increased marginally, up to US$10.23bn from US$10.16bn, with identical store sales falling 1.3 per cent during the period. Retail food net sales stayed at US$8bn, a similar level to the previous year.
During the quarter, the group rolled out new products from its Wild Harvest organic brand, and continued testing a new small-store format.
Supervalu has forecast full-year net sales of approximately US$45bn, in line with analysts average yearly forecast of US$44.97bn.
'Despite weaker than expected operating results in the second quarter, we expect another record earnings per share per year, with earnings in a range of US$2.86-US$2.96 per share,' said group CEO Jeff Noddle. 'As for the balance of the year, we have taken action to improve our sales performance while creating value for our customers to reduce costs in the back half of the year.'