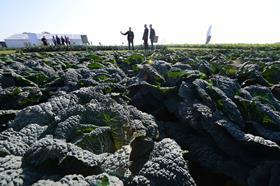 Syngenta has revealed that new innovations in vegetable varieties and agronomy that can improve returns for growers throughout the production cycle, will be the focus for this year's UK Fields of Innovation Open Days next month.
Taking place in Surfleet, Lincolnshire, on 9-10 October, the event will feature a number of crops including brassicas, onions, lettuce, baby leaf and spinach, as well as new farming technologies.
'A combination of new variety attributes and technologies that can significantly increase the marketable yield from every hectare - along with cutting growing costs through better targeted use of inputs - offers valuable scope to improve growers' returns on investment,' Syngenta said.
The Fields of Innovation site will also demonstrate new brassica and salad varieties with inherently strong natural disease resistance, to deliver consistent high quality produce along with greater flexibility and resilience in disease control programmes.
Fields of Innovation will also give visitors the first chance to see the field performance potential of a completely new fungicide in development for salad crops.
Other features will include New Farming Technologies to enhance efficiency of vegetable production, along with a Learning Zone where local schools and children will be invited to find out more about vegetable growing and where their food comes from.