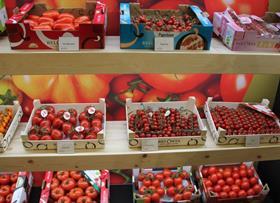 Good taste and flavour are vital to ensure consumers buy your tomatoes. So said Jo Lambrecht, sales and marketing manager at Belgian grower cooperative BelOrta, speaking at the virtual Global Tomato Congress yesterday (16 March).
"If they like the taste today, they will buy it again tomorrow," he told the 2,000-strong delegates to the online event. "Innovation is key and taste is key, and BelOrta is putting this into practice."
BelOrta, whose Belgian and Dutch producers grow 52 different types of tomatoes, ensures a "top notch tomato selection" when developing new varieties, and has launched a new 'Flavour' range, Lambrecht said. "We want to ensure our customers enjoy our products in a healthy way."
Nevertheless, 'classic' tomato varieties, such as beef, loose and vine, are still the most popular for many Belgian consumers, he added, so the group is not about to abandon them.
The cooperative comprises 1,000 growers in Belgium and the Netherlands, and produces over 665m units of produce each year, Lambrecht said.