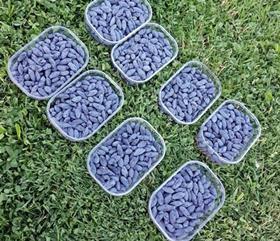 The recent boom in berry sales across the globe, driven by blueberries in particular, has left people wondering what the next big thing in the category could be.
Is the answer the Haskap, otherwise known as the Honeyberry? Janja Postruznik, adviser for Slovenia-based producer Haskap, certainly hopes so, having harvested the group's first Honeyberry crop this year to great acclaim.
"People like our berries very much, and due to the good crop a few new growers have joined with us," she tells Fruitnet. "Like much of the region we had very low temperatures, but our Honeyberry bushes remained in good condition."
Postruznik is confident that, due to the healthy nature of the Honeyberry and the current trend for so-called superfoods, countries both inside and outside Europe will be keen to sample the fruit.
"In terms of sending to the UK, we don't have experience now, but we will probably send new varieties of Honeyberry to the UK next year," she confirms.