The Real ChampiON featured in cooking demonstration by MasterChef winner Eneko Fernández at Fruit Attraction
The Real Green Food Co has launched the first premium mushroom brand for the Spanish market. The company said The Real ChampiON, which was debuted at this week's Fruit Attraction fair, embodies its commitment to sustainability, maximum flavour and local production.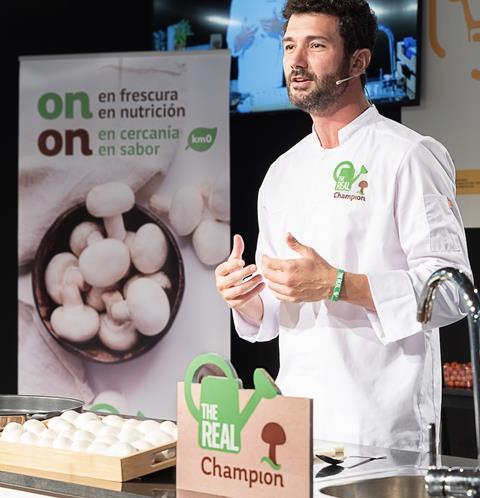 At an event hosted during the fair by Eneko Fernández, winner of MasterChef 11, the chef prepared a dish of ChampiONs with polenta, roasted cherries, feta and basil.
"The mushroom is a product of extraordinary versatility. It is a natural flavour enhancer and has spectacular nutritional values. However, it is essential to choose mushrooms with maximum freshness. This is only given to you by local, quality products. With The Real ChampiON you have that guarantee," Fernández said.
In a market where there is no premium brand for fresh mushrooms, The Real ChampiON seeks to lead and promote consumption of this vegetable.
"When we compare Spain with other European countries we see that the mushroom market here has great potential. The average Spaniard consumes just 1.1kg of fresh mushrooms per year while, for example, a Dutch person reaches 11.6kg," said Aitor Sanzol, sales director of The Real Green Food Co.
"For us, the opportunity is enormous. Spanish consumers are demanding quality plant products, grown nationally and with respect for the environment. That is why with The Real ChampiON we want to respond to that demand and lead the category."
During the fair, the Real ChampiON also showcased its new 100 per cent recycled and 100 per cent recyclable cardboard packaging in the Innovation Hub, a space where the most outstanding innovations in the international fruit and vegetable sector are exhibited.
The Real ChampiON mushrooms grown in La Rioja, Spain and harvested by hand, 365 days a year. They scored 8.7 out of 10 when rated by expert tasters.
They are packed in new cardboard packaging which uses 94 per cent less plastic and the company ensures full control of the supply chain, from the preparation of the sprouted compost right through to distribution of the product to customers.