Global Tropicals Congress offers fresh ideas for sustainable growth in one of fresh produce's most exciting categories
Fruitnet has announced the first speakers for its inaugural Global Tropicals Congress, which takes place in The Hague on 14 September. The one-day event brings together key players from across the industry to explore the latest market opportunities in the tropical fruit category.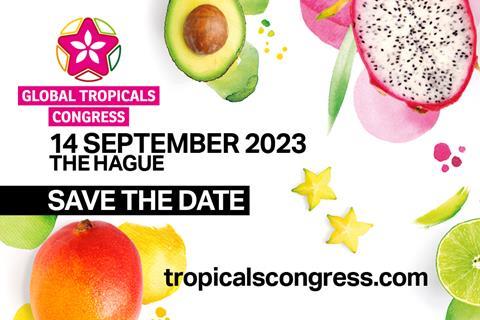 Demand for tropical fruits and vegetables is on the rise. As avocados, mangoes and pineapples cross into the mainstream and consumer tastes evolve, retailers and foodservice providers want to find new ways to add value to their offer. Eye-catching products like dragon fruit and physalis generate excitement when displayed alongside more traditional fruits.
In a packed conference programme of talks, presentations and interviews across two stages in a bustling networking and expo space, Global Tropicals Congress brings together a line-up of top speakers to discuss topics that are key to the tropical fruit sector.
As well as analysis of the latest trade and consumption data in key tropical fresh produce lines, the event will consider how the business has evolved, and what retailers and suppliers can do to further develop consumer demand.
Cindy Van Rijswick of market analyst Rabobank sets the scene with an analysis of the latest trade and consumption data in key tropical lines. Then Maria Wieloch, senior category manager at retailer ICA, joins Avnish Malde, CEO of the UK's leading exotics supplier, Wealmoor and other European importers to discuss how the European tropicals business has evolved over the years, and how retailers and suppliers can boost their sales.
Sustainable focus
Global Tropicals Congress also takes a deep dive into sustainability. We ask how environmental, cost and ethical pressures are shaping the tropicals business and explore some of the latest post-harvest, ripening and technological innovations that can make its supply chains more sustainable.
In a session ethical trade, Simon Derrick, head of sustainability at fresh-cut fruit specialist Blue Skies makes the business case for putting people first. Johnathan Sutton, group safety and environment executive at Westfalia, outlines the social and environmental principles that underpin the multinational's sustainability strategy. And Lieselot van der Veken of Proterra Agro presents a case study on efforts by a leading Dutch retailer to improve its own sustainability credentials.
We also explore the role of technology in helping companies to extend shelf-life, cut waste and grow profits. FrigoTec's Roland Wirth provides an overview of how advances in ripening technology will drive improvement in quality and shelf-life for tropical fruit. Benito Orihuel of Citrosol shows how new treatments might help to minimise post-harvest losses in avocados. And Daria Reisch of Agrinorm outlines how the company's unique AI-powered technology can help manage uncertainties and reduce claims in mangoes.
The push towards more sustainable modes of transport also impacts the global trade in tropical fruit. Tineke Van de Voorde of the Port of Antwerp provides an overview of how the port is responding to growing demand from tropical fruit suppliers.
With a mixture of lively sessions in a shared conference and expo area, Global Tropicals Congress allows you to connect with customers, buyers, suppliers and service providers and tap into a wealth of established expertise and new talent.
View the programme for Global Tropicals Congress here.
Click here to register for Global Tropicals Congress 2023.