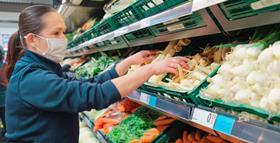 Food retail in traditional UK supermarkets is in for a period of major transition as pressure mounts from online shopping, 'discounters' Lidl and Aldi, and from increasingly discerning consumers for whom grocery shopping is a chore.
So said Fruitnet managing director Chris White, interviewed for the WOFI session on retail trends at the online event last week.
In order to remain profitable, traditional UK bricks-and-mortar supermarkets need to become more than just food stores, he said, and become an exciting destination where people want to go to get new ideas about food.
"For the physical store to survive, it needs to embrace this different aspect to get people to come through the doors," White told Eurofruit's editor Mike Knowles. "I would like to get to the point where we are encouraged to be in the store where we want to go and experience food.
"Today, retail has to be all about experience. And for too long it hasn't been the best experience. That needs to change."
Hybrid food retail stores are indeed the future, agreed senior category manager fruit, veg, flowers Maria Wieloch, of Sweden's ICA Gruppen in the panel discussion that followed White's interview.
"Our group has hybrid stores [in Sweden], which have wine bars, restaurants and market-style areas. These stores open up new possibilities," she told Knowles, who chaired the panel discussion.
Becoming a nicer place to visit where food is celebrated is something that Amazon Fresh cannot do - and neither can the discounters - and should become a point of difference, added Bryan Roberts, retail analyst, Shopfloor Insights, UK.
The panellists, who also included Cindy van Rijswick, industry analyst fruits, vegetables, floriculture, Rabobank, the Netherlands, agreed that the coronavirus pandemic had accelerated the growth of online retail, and had reignited consumers' interest in food as global lockdowns forced them to cook more at home.