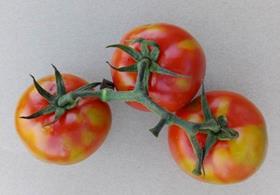 The highly contagious virus known as "tomato brown rugose fruit virus" (ToBRFV) was confirmed last week on a farm in Finistère, Brittany, making it the first known case in France.
"We received the results from Anses [health agency l'Agence de Sécurité Sanitaire] on the samples taken from the greenhouses that were suspected in Finistère, and the results were positive," the ministry of agriculture stated. "They are indeed contaminated with the virus."
The affected farm has been quarantined while the plants are destroyed and the site is disinfected. Although the virus is innocuous to humans, it can spread easily among plants, especially tomatoes, peppers and chilli peppers, quickly wiping out 100 per cent of produce in any given production site.
The virus retains its power to infect over a long period of time and is spread through direct contact and by infected seeds, plants and fruits.
An infected plant, often deformed and showing discoloured leaves and dark or brown marks on its flowers, needs to be ripped up at the root and destroyed by burning, according to Anses, since no cure is available.
The agency equally counselled against purchasing seeds online, or from uncertain geographical origins or sources, in order to avoid unwittingly importing or spreading the virus. France consumes more than 13.9kg of tomatoes per household every year, and in 2018, the country produced 712,000 tonnes of tomatoes.
"[The spread of this virus in France] would have major economic consequences on the production line," the ministry of agriculture announced, "but also for amateur gardeners."
The virus was first spotted in Israel back in 2014, and later discovered in tomato crops in Mexico in 2018. It has also spread to the US, Germany and Italy, with cases confirmed last year in the UK, Netherlands and Greece.