Company will showcase Neon blueberry pre-grader and new-generation Spectrim X series optical grading platform with LUCAi technology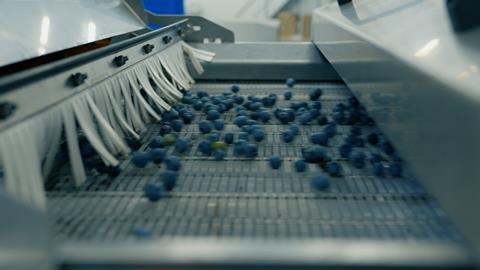 Tomra Food is to launch two new sorting and grading solutions: the Tomra Neon pre-grader for machine-harvested fresh blueberries and the new-generation Spectrim X series, which leverages Deep Learning for more precise sorting and grading.
Both solutions affirm the increasing role of artificial intelligence in Tomra's technologies and both will be on display for the first time at Tomra's booth at this week's International Fresh Produce Association's Global Produce & Floral Show in California.
The stand also features an interactive hologram display which showcases the working principles of the Tomra Neon and Spectrim X series, as well as some of the company's other sorting and grading solutions.
"Although automated blueberry harvesting is faster and less costly than manual harvesting, it brings unwanted debris and fruit clusters to processing and packing lines for the fresh blueberry market," Tomra said.
"To address these challenges, Tomra Neon pre-grades machine-harvested blueberries before transferring the fruit directly onto our KATO260 optical sorter and grader. It is durable, easy to clean, and compact, making it a perfect fit for any existing blueberry line."
According to the company, Tomra Neon optimises optical grader efficiency by removing more than 95 per cent of clusters and more than 90 per cent of green and red berries. It has a throughput capacity of up to 500 berries per second and can maintain a speed of up to 280 berries per second even when fruit removal is as high as 40 per cent.
The machine, which uses artificial intelligence to identify, differentiate, and remove unwanted clusters, undersized and unripe fruit, was prototype-tested over two-and-a-half years in varied machine-harvested conditions in North America and New Zealand.
Meanwhile, the company continues to develop its LUCAi Deep Learning AI platform, first introduced in 2017, to expand its applications across solutions; the first of these is Spectrim X series.
Deep Learning technology uses pre-trained models to teach computers how to process data, such as complex patterns in photos. Spectrim X series assesses thousands of high-resolution, multi-channel fruit images every second. Then it cross-references what it sees with vast amounts of data to make grading decisions to meet precise market demands.
This data has been captured from Tomra machines across the globe and precisely labelled by the company's data science team. During 18 months of real-world testing in the US, and New Zealand, the company said Spectrim X series showed a significant leap forward in performance compared to its predecessor.
While the Spectrim X series integrates LUCAi technology, existing Spectrim customers who grade apples can subscribe to the LUCAi upgrade package. "New 'plug-and-play' Deep Learning models, pre-trained by vast datasets, that can precisely detect and classify even the trickiest apple defects, such as splits and punctures across multiple varieties," the company said.
"LUCAi also allows customers to easily adjust the severity of grading parameters – something which previously had to be done by experienced operators – to cater for seasonal dynamics and market preferences. And the pre-trained intelligence of this upgrade is customisable."
One of the first adopters of this technology was Freshco, a leading New Zealand fruit and vegetable grower and exporter. Freshco's manager of technology and machinery, Robin Mudgeway, commented: "Spectrim with LUCAi is a game changer. We had to work a lot harder around the stem area mainly for splits and punches. Now you don't have to do the work anymore, LUCAi does it for you. This means you can keep production up at a speed without a lot of manual grading on the line".
Tomra said the next LUCAi release will focus on cherries – adding Deep Learning technology to the InVision2 cabinet, before being rolled out to other commodities, including avocados, cherries, citrus, kiwifruit and stonefruit.