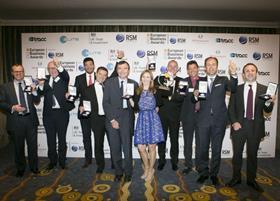 Sorting solutions specialist Tomra was named as the winner of the European Business of the Year Award for companies with a turnover of €150m or higher, at a gala event held in London last week.
In landing the award, the group was recognised as one of the leading European companies in terms of demonstrating innovation, business ethics and financial success.
"It was an honour to accept this award on behalf of all my colleagues around the world,' said Lorraine Dundon, vice-president and head of group brand at Tomra. 'The global Tomra team is working hard to fulfil its joint vision of being a leader in the resource revolution, and this award will provide further motivation in our work to develop innovative solutions for resource optimisation.'
The criteria the judging panel used to determine the Business of the Year Award winner was to select the company that best demonstrated exceptional financial returns, strong growth and innovation strategies, and market leadership in its sector. In addition the judges looked for evidence of inventiveness, ethical credentials, good stakeholder relationships and long-term planning balanced by the flexibility to deliver consistent results in dynamic market conditions.
"Tomra is a global company with its roots in Europe, and I believe the ideals the European business community shares in providing an open market with the desire to develop a stronger and more sustainable society for all, have set the foundation for our success,' explained Stefan Ranstrand, Tomra president and CEO. 'We look forward to continuing to invent ground-breaking solutions, growing our business and being a leading example of business ethics in the years ahead.
"This award means the world to us and I would like to express my sincere gratitude to those who voted for us including the judges who gave us the ultimate stamp of approval,' he added. 'This award is a sign of the true team spirit visible throughout Tomra," said Stefan Ranstrand.