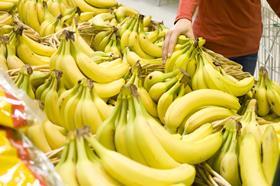 Global banana oversupply is putting pressure on banana prices across all segments – conventional, organic and Fairtrade – and producer profitability is being reduced, warned banana sector expert Ralph Fischer at Eurofruit's World of Fresh Ideas (WOFI) online conference last week.
The former banana marketing manager at Germany's Internationale Fruchtimport Gesellschaft Weichert GmbH & Co told virtual delegates that Europe needed to set clear price levels for conventional, Fairtrade and organic bananas so that banana workers could be paid a sustainable wage.
He added that production should be cut to rebalance supply and demand, and that production costs should be shared across the supply chain.
Banana production is becoming increasingly difficult as the number of chemicals available to growers is reducing, Fischer said. He added that organic production was also getting harder.
Fischer continued, saying that the growing number of private banana labels and sustainability certificates in the European retail market is leading to confusion and insecurity among consumers.
"Certification numbers need to be reduced to help consumers in their decision-making," he said.
Bananas rank second in the top ten fruit consumed in most European countries, after apples, Fischer added, and account for 8-14 per cent of supermarket fruit turnover.
"Bananas are still number one in [retail] price promotions, although these do not tend to lead to increased sales volumes," he said.