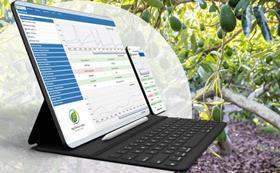 Trops has teamed up with digital agriculture specialist AgriSmart Data to grow avocados using 50 per cent less water.
By managing irrigation with precision agriculture technology developed by AgriSmart, they have managed to produce Hass avocados with less than 350 litres of water per kilogram of fruit produced – well below the usual 600-700 litres normally required.
The ability of the iTelemeter (AgriSmart data) equipment to take control of the irrigation automatically, the development of the algorithms that govern it, together with the constant monitoring of the growth of the tree and the microclimate of the farm have allowed having very efficient irrigation, minimising tree stress situations so that the maximum possible productivity is obtained with the allocation of available water resources.
Precision agriculture plays a key role in helping Trops to meet its water management objectives while maintaining, and even increasing, productivity on its farms, as part of its wider Sustainable Development Goals.
Following the successful trial, Trops and AgriSmart Data are making the technology available to Trop's 3,000 member growers throughout southern Spain to help them improve the production process from an agronomic, economic, and environmental point of view.
Vélez-Málaga-based Trops is Europe's biggest avocado producer, exporting to more than 25 countries.