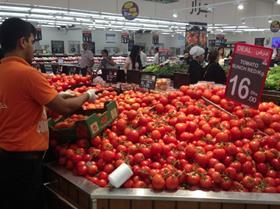 The UAE's ministry of climate change and environment has announced an imminent ban on imports of particular fruit and vegetables from five Middle Eastern countries starting next month.
From 15 May, imports of select products will be prohibited from Egypt, Oman, Jordan, Lebanon and Yemen over concerns about high pesticide levels, according to a report in the National.
Banned items include peppers from Egypt; peppers, cabbage, cauliflower, lettuce, squash, beans and aubergines from Jordan; apples from Lebanon; melons, carrots and watercress from Oman; and all fruits from Yemen.
The ministry stated that those countries named in the ban would have to submit certificates for all other products to ensure they are free of pesticide residues prior to import.
Hani Ayloush of Dubai-based Fruit Line Trading predicted that the ban would increase demand for produce from alternative sources. "Next month is Ramadan, so demand will be high," he said. "Origins like Spain are likely to benefit."
Shihad Aboobacker of Nassar Al Refaee Trading (NRTC), which imports significant volumes into Dubai from countries on the banned list, assured that alternatives would be found, while throwing doubt on the overall extent of the ban.
"The ban on Lebanese apples will have little effect," said Aboobacker. "A couple of weeks later, Iran will be starting with its own apple supplies. It is the same situation for many of the banned vegetables, of which Iran is a major producer."