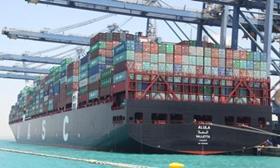 United Arab Shipping Company (UASC) has announced plans for a major expansion of the business in 2015, when its cooperation agreement with Hamburg Süd takes effect.
The deal between the two was signed in September, with a view to extending both companies' global reach and improving the service on important Asian and South American trade routes.
'We will gain access to their service from Latin America to northern Europe,' said UASC's head of reefer management, Gareth Madsen, at this week's WOP Dubai exhibition.
The company will therefore require greater capacity, Madsen said, revealing plans for thousands of new containers. 'We will double or even treble our capacity,' he said.
Madsen also announced the construction of 17 new ships – eleven of 14,500 TEU and six of 18,800 TEU.
Equally new for 2015 will be UASC's service between the East Coast of North America and the Mediterranean, Gulf and Red Sea.
'This is big for UASC because it's coming from a low base, but it's manageable,' said Madsen. 'We need to make sure everything is aligned, but we're ready for this expansion.
'We can't compete with the numbers of the bigger carriers, so we focus on the quality of our service and our professionalism,' he said. 'Understanding the whole chain and the importance of cooling throughout, packaging, ventilation, humidity. We don't want to be everything to everybody. We want to target the right customers with the best service.'