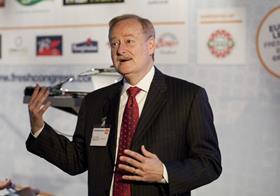 The United Fresh Produce Association (UFPA) has called for urgent action by Congress to mitigate the challenges facing the sectors that have been hit most severely by the coronavirus outbreak.
With tens of thousands of employees furloughed, UPFA calculates that the fresh produce supply chain is losing US$1bn a week in lost sales, in addition to being exposed to the tune of US$5bn for lost inventory and risk to growers,
In a letter sent to the Senate on 21 March, UFPA asked Congress to consider a series of recommendations to safeguard the sector. These include establishing a US$1bn fund, eventually rising to US$5bn, that would be used to address claims filed by foodservice distributors who have outstanding expenditures to grower-shippers.
UFPA is also calling for the government to make US$1bn available to allow small businesses to help meet the needs of schools and all emergency feeding sites that are experiencing increased demand.
"These are primarily small businesses that face a unique set of challenges when disruption hits," the association said.
"We urge Congress and USDA to take advantage of the opportunity to utilise this existing supply chain capability to meet the needs of schools, food banks and other emergency feeding sites that are scrambling to meet the unprecedented needs of their communities – while ensuring these businesses can continue to provide employment for their workers and be in business when schools return."
UFPA is further calling on the government to provide US$225m to temporarily increase the cash-value voucher benefits scheme for women and children.
UFPA president Tom Stenzel also outlined the actions being taken by the association to tackle the crisis.
These include the development of a protocol for food chain employers on what to do when an employee or contract worker tests positive for COVID-19, and emphasising the need for food industry workers to be part of the nation's essential health infrastructure.
UFPA is also urging the FDA to issue guidance that food or food packaging does not transmit the coronavirus.
The association also announced a partnership with the National Grocers Association, which represents America's independent grocery sector, to link produce foodservice distributors to their member grocers who need store-door-deliveries and other support to keep their shelves stocked.
Stenzel praised the efforts of members to keep the food supply chain moving to feed Americans.
"It's unfathomable to be shifting as much as40-50 per cent of the food supply from the foodservicechannelto retail outlets – and that's in the midst of a crisis thatistelling people to stay home, shutting institutions that facilitate our supply chain, and ignoring that the very companies essential to putting food on the table are bleeding cash needed to stay in business," he said.