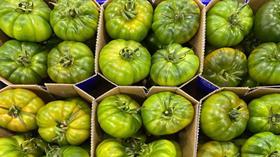 With coronavirus causing major concerns for fresh produce buyers and suppliers in Italy, Fruitnet speaks exclusively to Tessa Knowles of New Covent Garden Market-based importer European Salad Company, which sources large volumes of Italian fruit and vegetables for the UK market on a weekly basis.
Tessa, in a normal week you head out on Monday to Milan wholesale market, where you load up pallets of fresh produce for delivery to customers in London later that week. But the impact of coronavirus in Italy means you probably won't be back down to Milan for the next month or so.
Tessa Knowles: In Milan Friday 21 February, before I went out on Monday 24 February, there were just three cases of the virus, but by the time I'd taken the decision to go out there were 220 cases and two deaths. So, having landed in Europe's ground zero for the virus, I wasn't hanging around too long!
What was the situation like there in Milan?
TK: The city was quiet. Less traffic about, with next to nobody on the streets and anybody that was about was masked. Supermarkets were regularly being cleared of produce with panic buying. Lots of cafes, bars and restaurants closed either voluntarily or because of the new opening restrictions – so no happy hours etc drawing large numbers of people in. In addition, there are currently 11 quarantine areas close to the city, with road closures and no access, and police on the roads.
What about in the wholesale market itself. How are the traders doing there?
TK: In the market it was quiet and there was a sense of trepidation waiting to see what happens next. The impact of local schools and businesses being closed was already being felt, and people were wondering if the quarantine areas will be extended or travel restrictions will be put in place. That could affect the market being open or lorries being able to get in and load.
A lot of our suppliers voiced concern that they expected more restrictions and the possible closure of the market as the virus spreads. [Editor's note: market operator Sogemi has so far dismissed speculation over the centre's possible closure, although it is constantly reviewing public access, and has also threatened to suspend traders who violate sanitary rules.] Unfortunately it is a place where a lot of people are mingling together, which is not desirable at the moment. The knock-on effect for all of us in New Covent Garden Market in London is significant, because for our business alone our Italian produce night is our busiest. Any of the other businesses importing from Italy and Europe like we do will start to feel the pinch as there may be less produce available. This will lead to higher prices, and the impact then also passes on to our customers and their businesses.
What happens next, do you think?
TK: Like our suppliers in Milan, we are waiting to see what happens next. With many flights cancelled out there now and across Europe, and today nearly 2,000 cases and a jump of deaths from 34 to 52 in 24 hours. we are just at the start of this in north Italy. Currently we are still buying and loading in Milan, but we are in constant contact with our suppliers for information about anything that will change being able to load – such as more restrictions or market closure.