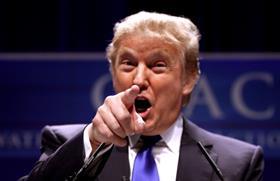 French foreign minister Jean-Marc Ayrault responded to the surprise election of Donald Trump as US president by highlighting the need for him to clarify his position on several key issues, including the conflict in Syria, the West's nuclear deal with Iran and climate change.
Trump's praise for Russian president Vladimir Putin, and his preference for an open dialogue with Moscow, is at odds with the stance of the Obama administration, as well as that of European leaders.
Some believe Trump's position could lead to a change of approach in Syria, ending the US hostility to Syrian president Bashar Al-Assad and potentially increasing stability in the wider region.
A rapprochement with Russia could even lead to the lifting of US sanctions on Moscow, which have crippled the Russian economy during a period of low oil prices.
However, greater uncertainty surrounds Trump's stance on the West's nuclear deal with Iran, which the president-elect has previously opposed. Many in Iran remain optimistic that such statements were mere posturing, designed to win over skeptical US voters.
Mahan Abedin, an analyst on Iranian politics and director of research group Dysart Consulting, suggested in the Middle East Eye that Iran would be better off with Trump in the White House over Hillary Clinton due to the former's more isolationist approach to the Middle East region.
On hearing this morning's result, Iranian foreign minister Mohammad Javad Zarif urged Trump to remain committed to the nuclear agreement.
Perhaps most worrying for those in the produce industry will be Trump's disbelieving attitude to manmade climate change, the new president having previously expressed his desire to dismantle the Paris deal that seeks to limit global warming to 2oC. However, climate officials have quickly poured cold water on the notion, suggesting that there is now no way of turning back on the Paris Agreement.