Following a 2021 campaign disrupted by climatic issues, much of Europe expects to see peach and nectarine volumes recover this year
European peach and nectarine volumes are poised to make a slight comeback in 2022 following last year's historically low crop plagued by frost, although production is expected to stay well below the five-year average.
That was the conclusion from MedFel's Europêch' stonefruit forecasts, presided over by Eric Hostalnou, produce head at the Pyrénées-Orientales department of agriculture.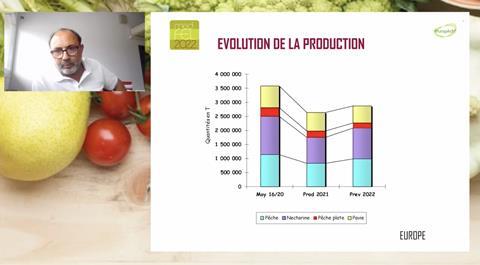 According to Bruno Darnaud of France's AOP Pêches Et Nectarines, 2022 should see French production return to a "relatively normal" level, despite the heavy impact of frost in the south-west of France.
After last year's 164,000 tonnes, French growers expect to produce around 197,000 tonnes of peaches and nectarines.
In Italy, production is expected to return to normal, with a forecast increase of 43 per cent compared with last year to 1.08m tonnes. The Emilia-Romagna region was heavily impacted by frost in 2021, but volumes are expected to reach 180,000 tonnes this year.
In Greece, following a tough 2021 campaign marked by low production due to a multitude of climatic challenges, forecasters anticipate a return to normal production levels of around 699,300 tonnes, up from last year's 410,800 tonnes.
On the other hand, Spanish growers anticipate a worse season than 2021 after last year's "acceptable" crop of close to 1.3m tonnes.
In part due to a major decline in Catalonia, where a severe frost is expected to cut the crop there by around 70 per cent, growers across Spain expect a combined volume of around 845,000 tonnes this campaign.