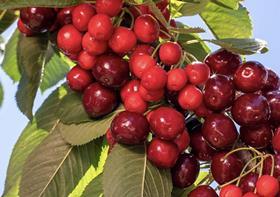 US Northwest Cherry Growers (NWCG) has announced its first estimate for the upcoming 2020 cherry season, pegging the harvest to reach 205,032 tonnes.
If projections prove accurate, it will be the smallest NW cherry volume in five seasons.

A combination of warmer weather in January and February resulted in one of the earliest blooms on record. This was subsequently followed by cooler weather, including a freeze, which caused some damage.
Add to this the fact growers are continuing to remove orchards due to 'Little Cherry Disease', and the lower crop estimate begins to make sense.
However, the lower volume is not necessarily a bad thing given the current circumstances around Covid-19, and the NWCG said it expects one of the largest spreads between early and late districts in recent memory.
This will effectively provide growers with more time and less pressure to move the crop. Given there have been fewer retail visits by consumers due to Covid-19 restrictions, this could prove beneficial.
NWCG has said a strong June start and the resulting longer crop is the best the industry can hope for at this stage and indicated a worldwide opportunity is fast approaching for cherry growers in the US.
It highlighted the need for retailers to be willing and able to meet consumers with messaging and promotions wherever and however they may be shopping, suggesting a move to greater online promotion of seasonal awareness is likely.