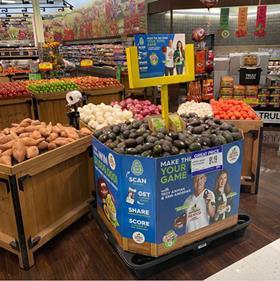 A new record has been set for Mexican avocado imports into the US. The first four weeks of the season coincides with the lead up to the Super Bowl, one of the main events on the sporting calendar.
During the period, Mexican avocado imports to the US increased by 19 per cent compared to the same period in 2020. A total 125,645 tonnes were imported during the first four weeks, with the 35,380 tonnes coming in a single week alone.
Avocados From Mexico (AFM) is the number one selling brand of avocados in the US. After six years of successful advertising during the match, the company decided to shift its strategy from in-match advertising to help drive retail sales during Autumn.
From October to December 2020, the market sustained a weekly import average of 22,226 tonnes, 20,865 tonne weekly average in 2019.
AFM holds 97 per cent market share during this period, and it established this time frame as a major tentpole within its annual marketing strategy, with hyper-focused shopper and trade marketing efforts to drive consumption.
Nielsen reported that avocado consumption in the US during the October to December period was up 16.5 per cent in volume compared to the same period last year.
AFM said its 'Big Game' digital campaign was its most successful yet, with 7.6bn impressions for the brand.