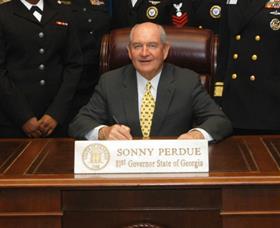 US secretary of agriculture Sonny Perdue has announced details of US$470m in Section 32 food purchases which will occur in the third quarter of fiscal year 2020.
These purchases are in addition to those previously announced – such as the Farmers to Families US$100m per month programme – and will enable USDA to purchase surplus food for distribution to communities nationwide.
These Section 32 purchases will provide additional support for producers and consumers in need, in response to changing market conditions caused by the Covid-19 emergency.
"President Trump has authorised USDA to support our farmers affected by this national emergency and this action to purchase food and deliver to those in need further demonstrates his unwavering support for the American people during these unprecedented times," said Perdue. "America's farmers and ranchers have experienced a dislocated supply chain caused by the Coronavirus. USDA is in the unique position to purchase these foods and deliver them to the hungry Americans who need it most.
The Agricultural Marketing Service (AMS) will purchase a wide variety of fruits, vegetables, meat, dairy and seafood products, with purchases determined by industry requests, market analysis and food bank needs.
Fresh produce to be purchased includes asparagus (US$5m), pears (US$5m), potatoes (US$50m), strawberries (US$35m), sweet potatoes (US$10m) and tart cherries (US$20m).