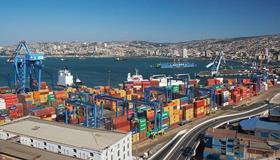 Chile exported 559,800 tonnes of fruit worth US$2.116bn FOB in February according to the Office of Agricultural Studies and Policies (Odepa). The figures represent a 2.7 per cent contraction in volume and increase of 5.2 per cent in value compared with the same period of 2021.
Cherry exports grew 6 per cent in volume to 277,400 tonnes and 24 per cent in value to US$1.449bn. Around 90 per cent of shipments were sent to China.
Blueberry exports reached 73,000 tonnes worth US$342m, a decrease of 8 per cent in volume and 12 per cent in value. The US took 42 per cent of shipments, with a further 26 per cent going to the Netherlands.
Table grape shipments stood at 89,500 tonnes worth US$141.8m. This represents a fall of 22 per cent in volume and 40 per cent in value year-on-year. The US was the leading destination, taking 72 per cent of Chile's shipment volume.
Total fruit shipments for January and February reached 645,000 tonnes with a value of US$2.328bn. This represents a 5 per cent decrease in volume and 4 per cent increase in value compared with 2021.