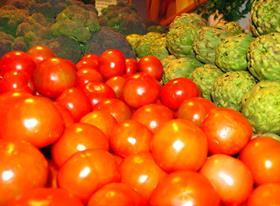 Spanish fruit and vegetable exports grew 3 per cent in value to €4.656bn in the first quarter of 2021. Export volume fell by 3.5 per cent to 3.7m tonnes.
The figures, released by Fepex, showed that fruit and vegetable exports were down by 5 per cent and 2 per cent respectively to 2m tonnes and 1.7m tonnes.
Tomato and cucumber exports both fell by 11 per cent, while in fruits, the biggest decreases were seen in oranges and strawberries, both down by 9 per cent.
Overall, the value of vegetable exports grew 5 per cent to €2.455bn, while fruit remained broadly stable, registering an increase of 0.4 per cent to €2.201bn.
First quarter imports grew 7 per cent in volume and value, reaching 961,122 tonnes and €887m. Imports from Morocco were up 5 per cent at €304m, consolidating the country's position as the leading supplier to the Spanish market.
"The figures show the decline in the volume of Spanish sales, which began in 2020, while the positive evolution of imports is maintained, both in volume and value," Fepex said.
Competition from Morocco in the EU will be one of the topics addressed at this Wednesday's Spanish-French-Italian-Portuguese tomato contact group, at which Fepex will once again highlight the "serious detriment" to EU producers caused by the rise in tomato imports from the North African country.