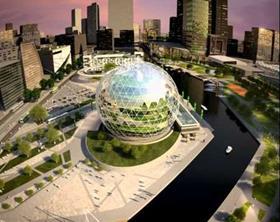 Plantagon International has signed a memorandum of understanding with Tonji University in Shanghai.
The pair have agreed to work together on town planning and ways to integrate urban agriculture into the fabric of cities.
Professor Lou Yongqi, vice-dean of Tonji's College of Design and Innovation, said: 'We believe that we are in an ideal position, with our advanced researchin design innovation, all agricultural areas, as well as in urban planning, to help Plantagon developand eventually establish urban vertical agriculture in China.'
Hans Hassle, Plantagon's CEO, looked forward to 'many years of productive and successful co-operation'.
Earlier this year Plantagon, which believes urban agriculture is the answer to the world's impending food supply problem, broke ground on a site in its native Sweden where it will build its first vertical greenhouse, which is a dome containing a helix-shaped planted area designed to maximise energy efficiency and environmental friendliness.