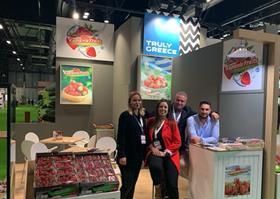 Greek strawberry producers are currently getting cracking on the new campaign, with expectations running high for a decent season.
According to Kaplanis Fruits, the most significant change occurring in the Greek strawberry category is the continuing shift from the traditional Camarosa variety to the Victory.
"Camarosa is a variety we have cultivated in Greece for years, but now production has almost stopped," said the company's chief executive, Nikolaos Kaplanis. "It has gradually been replaced by the Victory strawberry."
According to the company's Georgia Rosgovas, the Camarosa was originally produced with eastern European markets in mind, whereas the Victory, she says, is for everyone.
"Victory has a better, more heart-like shape," she said. "We believe it will be very successful. Its characteristics meet the needs of the European market perfectly, including those of eastern Europe."
The transition from the Camarosa to the Victory has gradually taken place over the last two years, according to Rosgovas.
"Now, however, it's happening very quickly," she revealed. "Initially it was just an experiment, but this experiment has gone very well, so this is the direction we are heading at the moment."