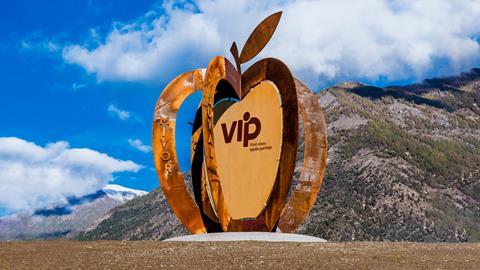 Italian marketer VIP has marked its 30th anniversary with the creation of a special monument to its member cooperatives in South Tyrol's Venosta Valley.
"Even if 2020 is not the ideal year to celebrate, this is an important milestone, which has also to be seen as a stepping stone towards the future," the company said. "Celebrations are simple as the current moment requires, without parties or gatherings, but with lot of thoughts about the path undertaken, the results obtained and the goals yet to achieve."
The apple-shaped sculpture has been built near VIP's headquarters in the village of Laces, a place at the heart of what the group refers to as its 'apple paradise'.
According to the company, its special anniversary represents a moment to reflect on what it has achieved and what it plans for the future.
At the centre of its strategy, it said, would remain respect for the environmental and social sustainability, backed by a focus on highly specialised agronomy and cutting-edge technologies to support quality produce and first-class customer service.
"At its root, a strong spirit of cooperation and love for a unique land in the Alpine region, so specialised in apple growing that, by good reason, is known to the market and consumers as 'the Apple Paradise'," it commented.

When it was founded in 1990, only three people worked for VIP. Today that number of direct employees has risen to 45, but with eight business units and seven Venosta valley cooperatives within its membership, that community now covers 1,700 growers.
Its communication and marketing has also evolved in that time, notably with the recent restyling of its logo, the introduction of two ladybug motifs to symbolise natural production, and the launch of its new VIP brand identity.
"We are aware that we have taken the right path," said Martin Pinzger, VIP's CEO. "Guided by the concept of sustainability, we will strive to raise the bar and bringsocial and environmental benefits for our community, as well as economical improvements to our growers.
"We are proud of the work done in the last thirty years, and we look forward the future with excitement. Collectively we have achieved important goals and extraordinary results, and together we will continue to do so."