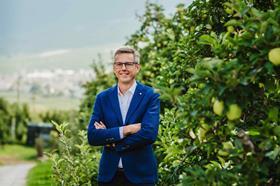 VIP, the Val Venosta Cooperatives Association, says it will soon be able to guarantee year-round supply of so-called club apples grown in the South Tyrol, something it already offers for some free varieties that are not subject to licence-based marketing agreements.
It also predicts a continued increase in the volume of organic apples it produces, buoyed by strong demand in the European market.
For the group's chief executive Martin Pinzger, being able to supply various premium varieties for 12 months of the year in "the near future" is a prospect rooted in its clear focus on sustainability and innovation.
"We discovered and applied sustainability when no one was even talking about it," Pinzger observes. "We have offered apples from organic and integrated production for more than 30 years and have collaborated with beekeepers for 20 years. We are forerunners in the field of sustainability, and we won't get tired of following this road."
Today, 20 per cent of the apples VIP sells are from organic production, while one-third of its overall harvest is grown in areas that are free of herbicides.
"This year, we would like to further strengthen the collaboration with the beekeepers and the measures for the protection of biodiversity in our orchards," Pinzger adds.
Service adds value
With a commitment to environmental sustainability, VIP aims to provide customers and consumers not only with good products but also first-class service.
"We guarantee the availability of our apples for 12 months a year, but this is not all," Pinzger continues. "We are among the few producers who are able to supply the European markets with organic apples for 12 months a year to substitute imports from overseas during the summer months."
He expects that trend to continue. "Our club varieties – from SweeTango to Kanzi, and from Ambrosia and Envy to Cosmic Crisp that ends our season – will be for the first time available for the whole season.
"This will be a premium offer of the highest level that will expand the season with high-quality apples creating value and guaranteeing the aim of fully exploiting the shelf in the interest of both our producers and B2B partners."
State-of-the-art technology, especially in its packing facilities, will also continue to be a focus for investment and improvement.
"Our packing stations in Val Venosta all have one thing in common: constant technological evolution. This is why they are among the most modern ones in the world and we will do everything to ensure that it stays this way," he adds.
"Besides, we pay much attention to packaging and sustainability. VIP recently strengthened its team with a specialised manager, who is responsible for updating the packaging by respecting the highest levels in terms of the materials' food safety and environmental sustainability.'