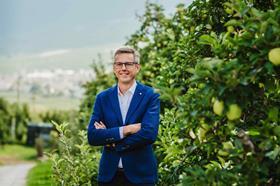 War in Ukraine, disruption in logistics, sharp cost increases in fuel, labour, and other inputs. For Italian apple producers, the future is far from certain.
"We have always prepared ourselves for a constantly evolving market," says Martin Pinzger, chief executive of the Val Venosta Fruit and Vegetable Producers' Association (VIP).
"Today the overall situation is very uncertain, not to say hostile, due to serious international tensions, severe disruptions in the logistics sector, cost explosion and market volatility.
"But we are confident that we will get through this difficult time and emerge stronger. Every company has to find its own solid place in this new and difficult context, and we are ready".
As one of the leading apple suppliers in Europe, VIP plays a key role in terms of the range and quality of its products, its investments in organic production and cutting-edge technology, and the services it offers its customers.
It represents 1,600 growers – Pinzger describes them as "passionate and experienced" – who together produce almost 340,000 tonnes of apples each year in the Venosta Valley, which has been cleverly marketed in the past few years as Europe's 'Apple Paradise'.
"Every successful company produces by responding to the needs of its target market, and for decades our consortium with its cooperatives and farmers has operated with a single objective: to offer its target the right products," Pinzger continues.
"A simple and effective strategy that translates into a placement based on solid pillars, which make VIP a reliable and proactive reality, even in an international context of general concern."
Ready to weather the storm
Despite the obvious challenges that 2022 has presented, Pinzger believes VIP's strengths will carry it through to a brighter future.
"We have the right geographic position in the European context, a market of more than 500m consumers that can be reached with road logistics in a manageable timeframe," he explains.
"The Val Venosta apples therefore become closer than overseas competitors, who suffer the consequences of skyrocketing logistics prices and difficulties in managing global trade flows."
But the group's advantage is not simply a logistical one. "VIP has the right selection for the future, between traditional varieties for the classic markets and innovative, club varieties for the most discerning premium consumers," says Pinzger.
"Add to this access to global research programs for new, good, phytopathology-resistant, sustainable, climate-change-friendly apples."
Organic production is also hugely important as a means for VIP to lead the way in Europe. One-third of its entire crop is herbicide-free, and this forms a central part of its sustainability efforts.
"With around 20 per cent of organically farmed areas, our production of organic apples has exceeded the 50,000 tonnes this year, as a confirmation that our company is continuing to be the leader of the market and currently at the forefront of the European strategic goals for Green Deal and Farm to Fork," Pinzger adds.