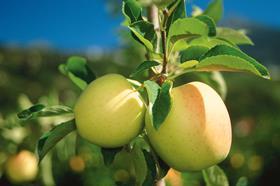 Italian apple marketer VIP, the Val Venosta Cooperatives Association, says sales in the Iberian Peninsula have held up well in spite of the challenges posed by Covid-19.
With a normal harvest in terms of volumes, but somewhat smaller sizes, sales for the first stages of the campaign have been in line with the previous campaign, the group said.
"Val Venosta apples have managed to maintain their excellent position in Spain and Portugal, something that we consider very positive because both countries have had a very good production," said Christiane Gfrei, commercial manager for the Iberian Peninsula.
"This makes us think that our customers are committed to the optimal quality and excellent preservation capacity of our product."
VIP said there had been a progressive increase in demand from all markets since January, a trend that was amplified by the pandemic and lockdowns in different countries – first Italy and then Spain and Portugal.
Gfrei noted that consumer purchasing habits have changed during the crisis, with people more focused on buying fruit and vegetables that keep for longer, such as apples and pears.
This trend, together with the fact that Spain is facing a considerably smaller stonefruit crop and possible shortage of pickers, suggests that demand for apples and pears will remain strong into the summer, Gfrei said.
With the last quarter of the season remaining, VIP has ended or is about to end the availability of most of its varieties, such as Gala, Red, Kanzi, Ambrosia and Envy.
The two main varieties that will finish the campaign are Pinova, available until the end of June, and Golden, whose season concludes around the end of September.
The decline in apple stocks in practically all of Europe since the end of January and the very good demand for Val Venosta apples has lifted prices this season.
"From the beginning of the season we practically maintained them, but the market situation has forced us to increase them for the first time," Gfrei said.
This helped the group to "slow down sales a little to be able to reach the end of the season with our Golden high mountain to guarantee service to our customers", she continued.
She anticipates "very positive market dynamics" for the remainder of the season, "without ruling out possible price adjustments, depending on how supply and demand develops".