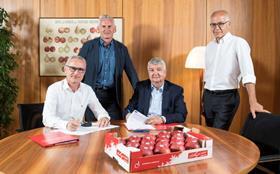 Italy's largest apple producer Vog has extended its range of club varieties to eight after signing a deal with fellow South Tyrolean company Kiku to produce Crimson Snow, a branded variety with white flesh and red skin.
Under the terms of the agreement, growers belonging to the Vog consortium will plant an initial 100ha of land with trees to produce the variety, known as MC38, from 2020 onwards.
That investment is expected to contribute to an overall expansion of Crimson Snow output to 20,000 tonnes in Italy alone by 2022, with Kiku targeting production of around 550ha in Italy and 700ha across Europe by that same year.
Developed in Australia following the discovery of a chance seedling by grower Allan McLean in an orchard north of Melbourne, MC38 was bred by Kiku Variety Management, which holds the global licence and branding rights for the apple.
According to the group, Crimson Snow does not bruise and is easy to process; for consumers, the variety is described as crisp and juicy, offering the right blend of sweet and sour.
The apple is understood to retain its quality in storage for almost 12 months, therefore offering an ideal product for sale during the second half of the European season, when availability of other red-skinned varieties tends to diminish.
Joining the club
Crimson Snow is the latest club variety to join Vog's portfolio, which already includes Envy, Jazz, Kanzi, Modì, Pink Lady, Rubens and another recent addition, Yello.
Commenting on the deal, Vog director Gerhard Dichgans said the addition of Crimson Snow confirmed its commitment to research and development.
'We are firmly convinced that the future of apples depends on innovation: new varieties with outstanding characteristics and useful properties are proving very effective in winning back consumers," he said. "During its first few years on the market, Crimson Snow has already proven its worth, so we believe it can perform very well for us."
Jürgen Braun, chief executive of Kiku Variety Management, welcomed the Vog's decision to begin producing the apple.
"The agreement with Vog means more growth for Crimson Snow," he said. 'We see it as a major step in our apple's development: the consortium's strength and reliability make it an ideal partner.
"We're looking for land suitable for growing the new apple, and the Vog growers' valley-floor orchards fit the bill perfectly. The new alliance will make an important contribution to the new apple's success.'
Encouraged by its bright red skin colour, snow-white flesh and exotic flavour, consumers in Italy and elsewhere in Europe have apparently warmed to Crimson Snow.
According to Braun, the variety's long shelf-life also makes it suitable for export over long distances.
At present, the apple is grown in Italy by four companies – Rivoira Giovanni & Figli, Sanifrutta, Fratelli Clementi and organic specialist Bio Meran – with a total of almost 400ha currently in production.
It is also grown in Switzerland by Iseppi Frutta and in Serbia by Verda Vivo.