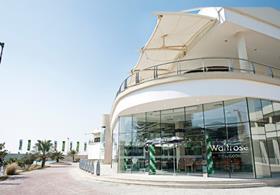 Upmarket UK-based food retailer Waitrose has opened its second store in Bahrain and has announced plans to expand further in the country in the coming years, despite a rocky start.
The company, which has a 4.5 per cent market share in its domestic market, already holds a licensing agreement with retail group Spinneys of Dubai to operate two branches in the United Arab Emirates, the first of which officially opened in the Dubai Mall in late 2008.
Jannie Holtzhausen, chief executive of Fine Fare FoodMarket, the company set up by Waitrose and Spinneys to manage daily operations at Waitrose stores in the region, welcomed the new development.
'Now that Waitrose has opened our second store in Bahrain,we are looking at more expansion in the future,' he told Trade Arabia. 'Our board has expressed full confidence in Bahrain.'
Waitrose intends to open up to eight new stores in Bahrain over the next few years, he revealed.