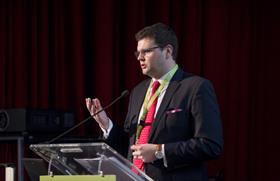 Congratulations on your appointment as president of WAPA. What does it mean for Poland to have you leading the association?

Dominik Wozniak: Thank you, I'm really glad that the World Apple and Pear Association nominated me for the presidential term between 2021 and 2023. For Poland it is a great honour, especially as I am the first Polish person in this position.
What are the biggest challenges facing WAPA, and the apple and pear business, currently? How do you approach solving these issues?

DW: For a couple of years apple and pear producers have faced the problem of falling consumption in Europe, mostly because of competition from exotic fruits and also berries. Right now, together with growers, we must fight for this market and sales.
Then there is the green deal. I think growers, together with politicians, must cooperate to find a solution for consumers and producers. Food has to be safe and produced responsibly, without negatively impacting the environment. However we must also remember the farmers – the biggest responsibility in on their shoulders. Growers must be present during discussions with politicians so they can get their point of view across.

How has the Covid-19 pandemic affected the apple and pear business?

DW: After the initial spread of Covid and into late winter 2020, we noticed very good demand and sales of apples and pears. In addition, spring prices were very good. This was mostly because of lockdown restrictions, with people shopping less than used to. They chose fruit that can be stored for longer.
Now we are in the second year of Covid and we can see that prices and sales are back to normal.
For the full interview, see the May issue of Eurofruit Magazine