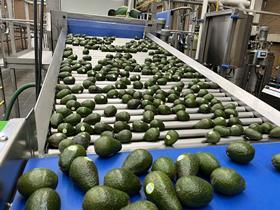 West Pak Avocado has announced the expansion of its Apeel treatment capabilities with a new installation at the company's facility in Michoacán, Mexico.
The company's first installation took place at West Pak's Murrieta, California facility in 2021, allowing it to apply Apeel's plant-based protection, which uses materials already found in the skins, peels, and seeds of all fruits and vegetables to extend the shelf-life of fresh produce.
The addition of the Michoacán installation in early 2022 will 'significantly increase' the company's capacity to supply Apeel-protected avocados.
Both West Pak facilities now provide at-source treatment options to deliver a year-round supply of Apeel-protected avocados to retailers in North America, Asia and Europe.
"We have made the strategic investment to expand our Apeel treatment capacity in our Michoacán packing house because it fits perfectly with our objective to provide best-in-class service to our customers," said West Pak Avocado CEO Mario Pacheco. "We look forward to providing our retail partners with longer shelf-life with Apeel-treated fruit from our Mexican operations."

West Pak Avocado senior vice-president of sales and marketing Doug Meyer said he was 'thrilled' that the group had the capability to offer Apeel-protected avocados to customers in all markets.
'Apeel protection gives retailers the opportunity to merchandise further-ripened avocados on their bulk displays and increases the size of their bag displays with more time for sell-through,' he noted. 'Ripened avocados in bags are also a possibility. Consumers are given more time to enjoy their avocados at home. All in all, Apeel protection translates to more time and more opportunities for the entire food chain."

"We are excited to expand our operations with West Pak," added Apeel senior vice-president of product Erich Klawuhn, outlining that Apeel offered a sustainable way to fight food spoilage.
"With Apeel's protection, West Pak's retailers can offer longer-lasting produce that makes it easier to purchase more while preventing waste."