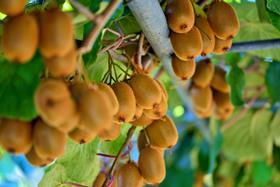 New Zealand is on course to produce its largest ever kiwifruit harvest but may struggle to find enough workers to pick the fruit, according to Colin Bond, chief executive of industry body NZ Kiwifruit Growers Incorporated.
The first kiwifruit of the new season was picked in Te Puke on 17 February. In total, growers expect to produce around 190m trays of the fruit in total in 2022, provided recent good weather continues.
In a weekly update to members, Bond said: "It will be a challenge to harvest what is forecast to be New Zealand's largest crop yet, but as I said last week, we all need to work together to ensure everything is picked and packed."
With labour resources so stretched, compliance becomes an even greater concern.
"Every orchard that is picked must comply with protocols from the Ministry of Health and Zespri," Bond commented. "It's everyone's responsibility on the orchard; contractors, pickers and growers, to ensure compliance with protocols, for the health of our employees and for market access."