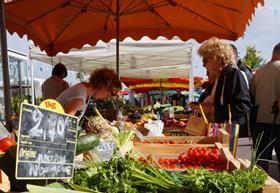 For importers of fresh produce, the impact of the Covid-19 pandemic has varied widely, depending on a company's sources of supply, its range, its customer base and its geographic location.
For French importer Commercial Fruits, which handles a wide selection of exotic items from the Southern Hemisphere and is based in Rungis International Market in Paris, the country's worst hit city, the crisis is very real indeed. And with minister of the economy and finance Bruno Le Maire calling for retailers and consumers to "buy French", those focused on imports are arguably at an added disadvantage.
The company's president, Gabriel Burunat, however, is currently concerned with bigger issues. "Some consumers may choose to buy French strawberries rather than Peruvian figs or South African plums," he said, "but the fact is that French production cannot fully meet the needs of consumers, not least due to a lack of labour for picking and packing."
A larger issue, he said, is that basic items like citrus, apples and potatoes are currently selling far better than so-called niche items, which have also suffered from the closure of restaurants and bars.
"Among our customers are several companies specialising in deliveries to restaurants, and most of them have had to completely halt their activities," said Burunat. "Some have converted to direct deliveries to consumers. Certain products intended for this type of customer have lost a large share of the market, including limes, asparagus, gourmet peas and soft fruit."
When schools, universities and most corporate offices shut in France, those supplying the canteens were heavily affected. Then came the closure of most of the country's open-air street markets, a decision that many view as a mistake.
"The supply chain is still working well, but with the restaurants closed and only a quarter of our outdoor markets open, the supermarkets are now packed with people queuing up to do their grocery shopping," lamented Christian Berthe, president of Lyon-Corbas Wholesale Market. "This is a much worse situation. It would be far less dangerous to open the outdoor markets and encourage social distancing and good hygiene practices. The weather is nice right now and after a month of eating mostly rice and pasta, people want to go out and buy fresh fruit and vegetables. They would also provide an alternative for wholesalers hit by the closure of hotels and restaurants."
Their closure also means that the main supermarkets and hypermarkets are now comfortably the main sales channel, a situation which, according to Burunat, has many drawbacks.
"At the start of the isolation period, certain shelves were plundered, with consumers building up large stocks of pasta, rice, and canned and frozen foods, enough to live on for weeks, and giving them less need to return for regular fresh purchases," he said. "With many losing work or taking pay cuts during this period, people also have less money to spend."
The response of the retailers has further disadvantaged importers like Commercial Fruits. "Most retailers have reduced their product range – partly due to staff shortages, especially in-store – and have chosen to eliminate certain items from their assortment," said Burunat. "They are removing niche and expensive products from their shelves, plus those considered non-essential, and focusing on inexpensive basics like bananas, oranges, apples and potatoes."
Such moves are a threat to the likes of Commercial Fruits and demand flexibility and long-term planning, according to Burunat.
"We must constantly be attentive to changes in consumption habits, especially at the moment," he said. "We need to find out if isolating families rediscover the pleasures of cooking in order to occupy time, or if they gravitate instead to frozen foods and ready meals. Does home cooking compensate for those volumes that used to go to canteens and restaurants? Should supplies from abroad drop off? These are important questions because if we don't load now, we won't have anything to sell in a month's time!"
According to Berthe, the crisis has quickly demonstrated the crucial role played by wholesalers in ensuring the continued supply of fresh produce. It has also served to refocus some priorities.
"This crisis has shown the importance of the distribution system provided by wholesale markets," he said. "We must never forget that what allows us to get through a situation like this is all those small companies, wholesalers and grocery stores that are always there working, no matter what. A month or so ago, plastic was the big problem, even though it affects less than 1 per cent of produce. Now, of course, there are bigger issues."