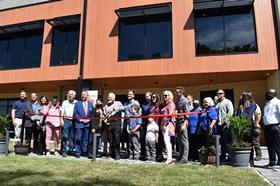 International berry grower and marketer Wish Farms has held a ribbon cutting ceremony for its new 24,000ft2 headquarters in Plant City, Florida.
"Our company has a one-hundred-year relationship with the community of Plant City. Our connection goes back to our days on the State Farmers Market and beyond," said Wish Farms' owner Gary Wishnatzki.
"This is a strawberry town, so keeping our new address here means a lot to our company, employees and growers."
The land on which the campus is built has a strong connection to agriculture dating back generations before Wish Farms' purchase. Proceeds from its sale in 2018 were placed into a charitable trust benefiting local FFA and agriculture education by the previous owner, Joe Kuhn.
Florida Commissioner of Agriculture and Consumer Services, Nicole "Nikki" Fried told the attendees: "It's about empowering and inspiring the next generation to love agriculture as much as their parents and grandparents…and you have built something here that carries on that legacy."