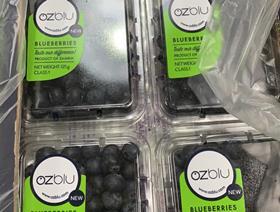 Zambian president Edgar Lungu today (13 November) officiated the flagging-off ceremony marking the inaugural export of Zambia-grown fresh blueberries to China.
The ceremony was held at OZblu's Zambezi Berry Company in the Chongwe District in Lusaka Province.
Zambia is the latest country to gain access to China for blueberries, marking the culmination of a three year process after first applying for access in 2017.
'Market access is a critical ingredient in the success of African enterprises,' said the United Exports Group, Australian company and OZblu licence-holder. 'Although the Northern Hemisphere still dominates global berry production, South American producers and exporters have experienced a meteoric rise largely thanks to their access to key markets including the United States of America, the United Kingdom, Europe and China.'
According to the last published report of the International Blueberry Organisation (IBO), the Northern Hemisphere accounts for 84 per cent of global blueberry hectares planted.
Of the 16 per cent of blueberry production hectares planted in the Southern Hemisphere, Chile and Peru account for some 80 per cent.
Presently, the whole of Southern Africa's fledgling industry produces less than 6 per cent of the world's blueberry plantations.
'There is therefore so much potential for Southern Africa to take up a place to compete with South America on the global blueberry stage,' United Exports said.

It was announced in July that Zambia had been granted access to the Chinese market for its blueberries and, since then, all necessary access protocols have been finalised, with the required Notice of Authority published by the Chinese Customs Authority.
In September, the Zambezi Berry Company received official confirmation that it was formally listed and could export to China. The first shipments of Zambian blueberries to China will leave Zambezi berries in 2021.
"We are extremely excited about this new opportunity to access one of the largest markets in the world,' said Graham Rae, managing director of the Zambezi Berry Company. 'We are confident that, by maintaining our world-class quality with these World-leading OZblu varieties while significantly increasing quantity, we can successfully compete with some of the biggest global producers."
The Zambezi Berry Company is a joint venture between Zambezi Ranching Cropping, one of the largest agri-businesses in Zambia, and the United Exports Group.
'United Exports is proud to be a part of this innovative venture, and expects this marvellous achievement for Zambia to be the first of many celebrations as Africa gains ground in the international blueberry market,' the company concluded.
United Exports' focus has been very much on Africa in recent weeks, amid an ongoing legal dispute with South African producer Ross Berries.