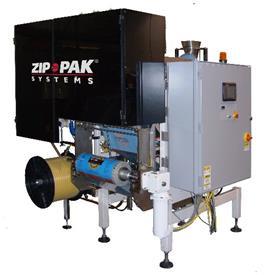 Zip-Pak, a leading re-sealable packaging solutions provider, has launched a new packaging machine called the TopZip Jr. retrofit system, which the company claims is economical, upgradable and has a smaller footprint than traditional stand-alone zipper applicators.

"Traditional zipper attachment systems often require too large an investment for companies in emerging markets, or those that have recently purchased non-re-sealable vertical form/fill/seal equipment," said Ken McCracken, business unit manager for Zip-Pak Systems, in a company statement.

"The TopZip Jr. was developed to enable even the smallest of brands to reap the benefits of resealable packaging. The development underscores Zip-Pak's commitment to innovation in order to provide the tools that enable convenient, appealing, and freshness-retaining packaging."

The system is ideal for applications that can be a challenge to store conveniently, or keep fresh, such as dried fruits and nuts, cereal, cookies as well as powdered drinks and soups.

The TopZip Jr. applies press-to-close, including Zip-Pack Double-Zip, in the transverse direction, and can support pillow, block-bottom, quad-seal and stand-up pouches. Additional upgrades include perforation and ultrasonic sealing.

The technology can run from 30 bags per minute without ultrasonics to 100 bags per minute, depending on the upgrade options.