The Kent company will be Aldi's sole supplier of British apples, providing around 45m units each year
AC Goatham & Son has signed a new £30m deal to supply the UK's fourth largest supermarket Aldi. Founded in 1947, and run by Clive Goatham and his son Ross, the Kent-based company has supplied Aldi with a variety of apples and pears since 2016, including Royal Gala apples, Braeburn apples and Conference pears.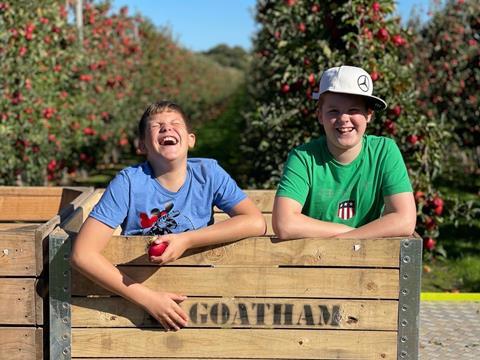 It will now be Aldi's sole supplier of British apples, supplying an estimated 45m units to Aldi stores across the country each year. This is more than five times the annual volume it initially sold to Aldi back in 2016.
The business said it has big plans for its future with Aldi, including adding new orchards to its 26 farms across Kent and working with the supermarket to extend the growing season with controlled atmosphere storage.
AC Goatham & Son also continues to invest in its green credentials, working in partnership with Aldi on its journey to Net Zero.
Managing director Ross Goatham said: "This deal is a fantastic achievement for a family-owned business like ours and will enable us to invest even further in our business to supply quality fresh produce to all Aldi customers across the UK".
Julie Ashfield, managing director of buying at Aldi UK, commented: "Aldi is a proud champion of British produce, and it is our pleasure to be working with AC Goatham & Son to supply all of our British apples.
"We are impressed by the business' growth over the past seven years with Aldi and are excited to see what this next chapter brings."
In line with its commitment to support British farmers, Aldi was the largest buyer of British apples for the August 2021 to July 2022 season, according to the industry body, British Apples & Pears Limited (BAPL).
The supermarket recently announced that it will be working with its UK farmers to achieve Leaf accreditation by the end of 2023. This scheme helps to verify sustainably farmed products among its suppliers to help it continue providing the best produce for customers.