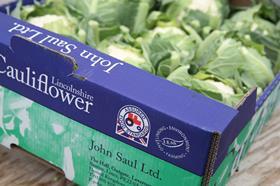 Almost half of all UK fruit and veg is now produced to the LEAF Marque Standard, the sustainable farming organisation has announced.
The certification body revealed in its eighthGlobal Impacts Reportthat 43 per cent of UK fresh produce was grown on LEAF Marque certified farms in 2019 – the highest percentage ever.
This figure has increased from 39 per cent in 2018 and is up from just 18 per cent in 2012, as recorded in LEAF's first annual report.
There has beenparticularly string progress in horticulture, with 95 per cent of lettuce, 93 per cent of leeks and 92 per cent of asparagus being grown on LEAF Marque farms.
The total number of LEAF Marque businesses in all sectors across the globe now totals 936, covering 358,455 hectares.
Arable and horticulture remain the two largest sectors among LEAF Marque certified businesses at 168,560ha and 166,652ha respectively.Other growth areas include grassland and biofuels.
Engagement with LEAF Marque across Europe remains strong with certified crop area in the UK and France increasing since last year.
LEAF Marque chairmanTom Green commented:"LEAF Marque certification, built around the whole farm system of Integrated Farm Management, is a powerful catalyst for change.
"By working with farmers to reward and incentivise change, and with retailers and consumers to ensure a market for environmentally sustainable food, we are uniquely positioned to link landscape health with people's lives and plates.
"I would like to thank our many supply chain partners and farmers, whose commitment and leadership enables us, together, to continue to "raise the bar" for the good of our planet and future generations."
The report also shows how businesses are following the sustainable farming practices of LEAF's Integrated Farm Management (IFM), which underpins the LEAF Marque Standard.
Some 41 per cent of LEAF Marque certified businesses record Soil Organic Matter, over half (51 per cent) carry out all eight aspects of Integrated Pest Management and 54 per cent are working with others at a catchment level to improve water quality and management.
In addition, 54 per cent have one or more types of renewable energy generation on farm and 36 per cent use a carbon footprint tool.
Landscape and Nature Conservation is a key part of LEAF's IFM.On average, 13 per cent of land on LEAF Marque certified businesses is currently used as habitat for wildlife.
The organisation also reports a year-on-year increase in the number of trees and hedges being planted on LEAF Marque certified businesses, supporting plants, insects, bird and mammals.
LEAF assurance managerJenny Clark said:"We are incredibly proud of the progress LEAF Marque farmers continue to make in delivering more sustainable farming and to reduce their carbon footprint by minimising energy use, reducing waste, recycling products and taking proactive steps to boost biodiversity.
"They are collecting rainwater for irrigation and recycling water by filtering and purifying with UV light, they are measuring the organic matter status of their soils as well as diversifying into renewable energy, producing electricity, heat and transport fuels."
Another area of LEAF's IFM is Community Engagement. As well as the annual LEAF Open Farm Sunday, LEAF Marque businesses hold visits and events off farm throughout the year.
In the past 12 months, LEAF Marque certified businesses communicated sustainable food and farming to a total of 58,657 visitors.