Agritech innovator moves building but stays within Lincoln Science & Innovation Park as part of growth that has seen the business make 12 recent appointments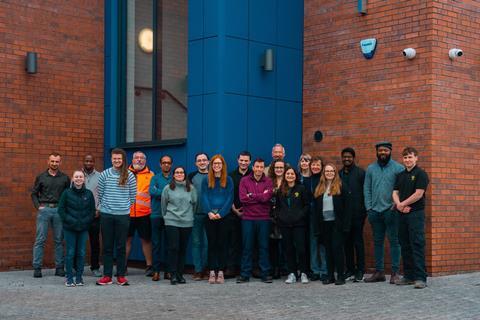 Branston's standalone agri-tech business B-hive Innovations has relocated to a new R&D premises to expand its operations in the fresh produce industry.
The company said the move will enhance its project delivery and commercialised entity capabilities and it follows major Innovate UK and Defra-backed funding into work to grow, store and transport potatoes more sustainably.
B-hive has relocated within the Lincoln Science & Innovation Park to the new Alchemy Building – a dedicated facility for R&D companies supported by the European Regional Development Fund and regional partnership body, the Midlands Engine.
The Alchemy Building, part of the continual development of the Science Park, is a stone's throw from B-hive's previous offices at Boole Technology Centre, where the company was launched in 2017.
In September, B-hive, along with several commercial and academic partners, was awarded £2.06m by The Farming Innovation Programme, to investigate new methods that will contribute towards a net zero carbon supply chain for potato crop.
The new 2,680 sq ft workspace includes meeting rooms, with integrated kitchen facilities and breakout areas. Open plan office accommodation houses B-hive's growing team, alongside hot desking opportunities for visiting researchers to collaborate on funded projects.
As part of its expansion, B-hive has made 12 recent appointments across its departments, several of which it said are "integral to the firm's ambitious growth strategy".
This includes recruitment at leadership level with Dr Andrew Gill joining as general manager, Dr Mercedes Torres Torres as head of machine learning, and Dr Ben Murphy as head of engineering.
Gill brings 25 years of experience leading commercially relevant bioscience research, including for the University of Lincoln and University of Edinburgh.
He said: "We hope to continue to expand our team, as we apply strategically for additional funding to develop agri-tech innovations.
"As well as the work we undertake at the office or laboratory, field work is pivotal to project research and development, so it's great that we can remain close to growers in Lincolnshire who we have established great working relationships with.
"Our East Midlands base also gives us a fantastic position centrally to liaise with our collaborators, including farmers and researchers up and down the country."
The new office boasts a dedicated cluster for machine learning, which B-hive described as a "major" investment.
To date, B-hive has received more than £6m in research-backed funding that has helped growers to increase their marketable yield, enhance product quality and reduce waste along the wider food supply chain.
A stone's throw from its existing premises, the move will also see one of B-Hive's commercialised entities, HarvesyEye, occupy the entire existing office, helping to enhance new product development and after sales support.
Gill said the move would help B-hive become "a global leader in the precision farming market, both from a research and development standpoint as well as commercial product development".