Devastating tomato virus sparks urgent calls for resistant varieties, with breeder anticipating strong demand for new round cultivar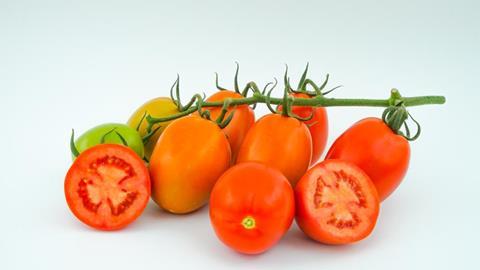 BASF has reported strong demand for its ToBRFV-resistant varieties amid the rampant spread of the virus internationally.
The breeder announced it was fast-tracking development of a new variety of round tomato with intermediate resistance to the aggressive pathogen, which can decimate yields by up to 70%.
Outbreaks have been reported in at least 35 countries across four continents since the virus was first discovered in Israel in 2014, and in Jordan the following year.
According to Defra, ToBRFV is readily spread via contact transmission as well as in seed, and can also be carried by bumblebees during pollination.
Moreover, the virus is environmentally stable and relatively heat-tolerant, making control challenging.
In Britain, an outbreak was confirmed in a tomato glasshouse in south-east England in the summer of 2019, and Defra said phytosanitary measures were taken to eradicate the virus.
Nasir Ahmed, the UK consumer and customer manager of BASF's vegetable seeds division, said the new variety could be "really interesting for growers" since round tomatoes are enjoying higher demand than other types at the moment.
"With the cost-of-living crisis, six-packs of round tomatoes are the biggest seller at UK retailers, and we're working hard on a new round variety with rugose resistance.
"At the moment it doesn't have a name – it's just a number – but we want to fast-track it as we think it's what the market needs right now."
As well as boasting intermediate resistance to ToBRFV, the new cultivar delivers strong yield and tastes good enough to be included in a supermarket's core range, Ahmed said.
The variety will sit alongside BASF's two other tomatoes with intermediate resistance to the virus: Tenon, a small snacking type, and Azovian, a large plum variety.
Tenon originated from BASF's high-tech facility in the Netherlands, where it is already being produced in small volumes. But the breeder believes it can also be grown in Spain and Morocco, where production trials are taking place.
"Samples are available now and, depending on the marketplace, we can see how much seed we have available and organise a small programme," said Ahmed. "This could happen in time for plantings in January and February followed by a summer harvest."
Azovian, meanwhile, is already sold in 500g packs at Sainsbury's, although Ahmed said there's not currently a big place for it in the UK market where large plum types aren't the norm.
That said, there is plenty of Azovian commercially available at the moment and Ahmed pointed out that it could be a "quick fix" for suppliers looking to help supermarkets avoid empty shelves.
"It might not be round but it's still a plum and you can use it for cooking, slicing, and dicing. It's an all-rounder really."
He said BASF has been selling significant volumes of Azovian seed in various markets because of the urgent need for ToBRFV-resistant varieties internationally.