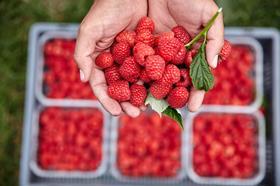 The Love Fresh Berries campaign has revealed further details of its partnership with outdoor cinema operator Cinestock.
From the end of July - which has been designated Britain's first National Berry Month - the industry campaign becomes a headline sponsor of Cinestock, and will hand out pots of fresh British berries for cinema goers.
Love Fresh Berries has also created four new berry-inspired takes on classic cinema snacks, featuring raspberry popcorn, berry slushies, fruit chocolate dips and blueberry and raspberry jelly sweets. At each event, cinema goers can get their hands on recipe cards for the new creations so they can try them at home, and they are also available on the campaign website.
This summer Cinestock will be showing films including Rocketman, Bridesmaids, Jaws, and Joker, with screenings held at five locations across Sussex and Surrey from July through to October.
Nick Marston, chairman of British Summer Fruits, said: "Love Fresh Berries is very excited to be the headline sponsor for Cinestock's cinema season. Berries are the perfect sweet cinema snack to enjoy whilst watching your favourite film – and we can't wait to share our berry twists on cinema classics with Cinestock audiences. Not only are they rich in flavour but they are also highly nutritious, containing vitamin C, vitamin K, fibre and antioxidants, to name a few."