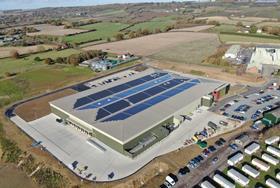 Berry Gardens has installed the largest solar energy system of its kind in Kent at the company's new site near Maidstone.
The installation at the producer's new head office, packhouse and cold storage facility in Lintonfeatures a 993.85 kW array, developed by Edward Energy and delivered by BeBa Energy UK.
It benefits from the latest developments in solar energy, making it the largest optimised system in the county and one of the largest of its kind in the UK.
While most solar PV installations group rooftop panels into 'strings' of up to 24, a combination of smart hardware and software used at Berry Gardens allows the panels to operate independently. This ensures that one dirty or below-par panel does not affect the performance of the rest of the string.
Calculations carried out by Edward Energy director Shaun Beattie, one of the UK's leading commercial rooftop solar developers, show that this should give the 3,614-panel system a 6.6 per cent increase in performance. It will generate enough power to run 237 four-bedroomed homes for a year.
"We decided to install an optimised system at Berry Gardens because there are plans to install a modern building monitoring system at the site that will allow the company to make use of the additional data," said Beattie.
"The installation is also future-proofed, because as energy storage comes on line in the next few years, Berry Gardens will have the right level of historical data to allow it to make efficient use of new battery technology."
The solar project follows a smaller 80 kW solar PV system developed for Berry Gardens by Edward Energy in 2014 and will make a huge difference to the growers' co-operative's carbon footprint, taking an estimated 292,000 tonnes of carbon dioxide out of the atmosphere each year.
"The fruit industry knows how important it is to be environmentally aware, cut carbon emissions, reduce costs and achieve energy security," said Beattie.
"Solar PV is ideally suited to fruit growers as their peak energy demand is in the summer, when the system produces the greatest amount of free electricity. Solar installations also make commercial sense, with the payback period on this scheme less than six-and-a-half years."
He added: "Planners are also keen to see that applications are sustainable. The solar PV element was a real consideration in the decision to approve this new building.
"It's also interesting that Berry Gardens is a long-term tenant on the Redwall Lane site, which challenges the perception that it can be difficult for tenants to go down the solar route."
Duncan Pierce, from project managers Page Surveyors, said: "We did a lot of work with Edward Energy and BeBa, contractor Civils Ltd and Berry Gardens to forecast the energy usage of the completed building so that the size of the array would maximise the return on investment.
"Cold storage and office applications such as this, with a heavy summer load but also with consistent year-round demand, are ideal for solar PV and give an effective return on investment even without the now-defunct Feed in Tariff.
"As project managers we were also keen to procure a high quality, safe, timely and error-free installation, and that's what Edward Energy and BeBa delivered."
The system will now be part of BeBa Energy UK's 400-system management portfolio to help ensure it performs at an optimum level for the next 25 years.
Edward Energy is a renewable energy development business that identifies appropriate locations and advises companies looking to install solar power.