The one-day-only pea-centric pop-up restaurant in London will showcase the versatility of the brand's petits pois
Leading frozen food brand Birds Eye has announced the upcoming opening of The PEA-ple's Cafe, a one-day-only pop-up restaurant that showcases the sweetness and versatility of its petits pois.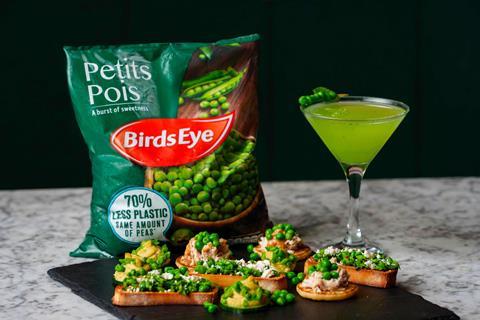 The pop-up will take place at Skinny Kitchen in London, Islington, and will open its doors on 5 April 2023 between 2.30pm and 5pm.
Renowned chef and brand ambassador Miguel Barclay will be at the helm serving up three pea-inspired canapés and a unique pea cocktail/mocktail recipe for those that drop in on the day.
In designing this menu of 'reci-peas' with Birds Eye's Petits Pois, Barclay will demonstrate how peas can be the star of the show, rather than an after-thought.
Guests at The PEA-ple's Cafe will have the opportunity to taste Barclay's creations and learn how easy and cost effective it is to use frozen peas in their own cooking.
Laura Clements, senior brand manager for peas at Birds Eye, said: "We are so excited to welcome visitors to The PEA-ple's Café, to showcase how deliciously sweet and versatile our Petits Pois are.
"So often, peas are overlooked and considered more of a side piece to a meal, but with this menu we hope to inspire the nation to see them as a hero ingredient for those brunch and lunch time occasions," she added.